HERE is the Sponsor of "New Technology Platforms. Life in Cloud" Section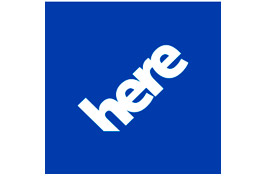 16 March 2015
HERE (a Nokia business unit) has agreed to be a sponsor of the Section "New Technology Platforms. Life in Cloud" that will be held on the second day of the 9th International Navigation.
HERE (Nokia) offers the newest maps and geo-location technologies that are compatible with any type of screens and operating systems. The HERE maps are a platform for new generation geo services, gadgets and navigation systems, helping many people navigate easily and confidently.
You can view speakers of this Section
here>
Choose your topic, your section, your round-table, build your individual program on the Forum web-site, in the section
«AGENDA»
.