Platonov Andrey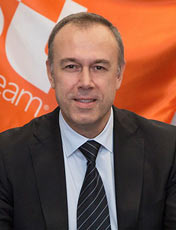 First Deputy General Director
Born December 28, 1968 in Stary Oskol, Belgorod region, In 1991 he graduated from the Saratov higher military engineering school of chemical protection (SWIGS), faculty of engineering.
In 1993 received the second higher education (military) in the Moscow Military Academy of chemical protection, specialty "Mathematical tools for the study of armament and military equipment".
In 1997 defended his thesis and received the degree "candidate of technical Sciences, specialty "Reduce the visibility of weapons and military equipment, radar absorbing materials, Military University of NBC protection. Author of over 100 scientific papers.
From 1997 to 2007 – held senior positions in scientific organizations of the Ministry of defense of the Russian Federation.
In 2007-2010 – the top Manager of the company "M2M telematics".
In 2011-2013 – Deputy Director of complex operations, Director of management services projects of JSC "Navigation-information systems" (NIS GLONASS).
In 2013-2014 – the General Director of the company Systemservice.
Since December 2014 – first Deputy General Director of the ST Technology (included in SpaceTeam® holding).
He is married. Has three children.
Выступления:
Section: "Regional and Corporate Navigation Information Systems"
"Regional Navigation and Information Systems: Legal and Regulatory Framework Formation Regional Experience"