Gavrilov Denis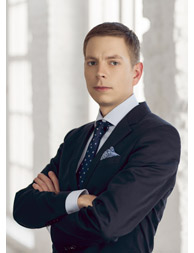 Denis Gavrilov, CEO, Vazhno. New Insurance (IC Nezavisimost)
As CEO and co-founder at Vazhno Denis is responsible for company development, reinsurance and risk-management, strategy and overall P&L. Prior to joining Vazhno, Denis was Head of Product development at Allianz Russia supervising all retail and corporate product portfolio (from P&C to motor and A&H) and supporting cooperation with major partners: banks, dealers, retail networks, etc. Denis has a 10+ years of industry experience of launching insurance start-ups with broad knowledge in all areas of insurance business: from sales & marketing to legal, IT and finance with focus on strategic development, product portfolio management, customer service in life and non-life business including life and non-life insurance.
Denis has MA degree in Management and BA in political science from Higher School of Economics and successfully graduated from Stanford University 2-years' distance learning program on international relations.
Выступления:
Round table: "ERA-GLONASS. New business platforms"
"Insurance telematics: 8 000 000 km customers mileage. Analytics and plans for the future"
Topics:
— Review of insurance telematics programs in Russia (key players, programs comparison, sales channels)
— Customers with insurance telematics portfolio overview: the most valued options and conditions
— Legislative issues and judicial perspectives of insurance telematics (status quo, etc)
— Insurance telematics and claims: potential for innovative claims handling and real-life cases of telematics claims handling
— Insurance telematics as a tool for fraud monitoring