Khadonova Svetlana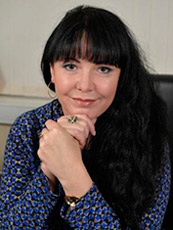 Born February 28, 1972 in Chelyabinsk region.
In 2003 graduated from the Moscow technical University of communications and Informatics (MTUCI), specialty "Multichannel telecommunication".
In 2006 received the second higher education on a speciality "Economy and management at enterprise" (MTUCI).
From 1996-2000 has held senior positions in public companies "BaykonurInfotmSvyaz".
From 2002-2005 – systems engineer research and production center "INTELCOM", then – head of promotion products and solutions.
From 2005-2013 – Marketing Director of "M2M telematics" group.
Since 2013 work as a Marketing Director SpaceTeam®.
Has son. Hobby: mountain skiing, tennis, tango.