Roytberg Pavel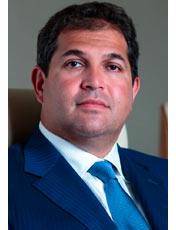 Executive Director, Head of Innovation Center
Pavel Roytberg was born in 1970.
Pavel graduated from MIREA in 1993 and received MBA degree from the Wharton Business School University of Pennsylvania in 2000.
2000 to May 2006 Pavel worked for Cisco Systems in San Jose, California, there he was responsible for Business Development for Cisco IOS.
Pavel joined MTS in May 2006 as Product Development Direct — in this role he brought the company to the market leader position in VAS, run a number of innovative product launches, including Omlet. ru multimedia portal, mobile TV service, mobile commerce (EasyPayment) service, etc. Under his leadership, the team received a number of industry awards including GSMA Award, Global Telecom Business (GTB) Award, Mobile Entertainment Forum (MEF) Award and Runet Award.
Pavel joined Universal Electronic Card (UEC) in September 2012 as Vice-President of Business Development and Management Board Member. At UEC he was responsible for the regional expansion.
Pavel joined Rostelecom as Executive Director — Head of Innovation Center in July 2013.