Volostnov Alexey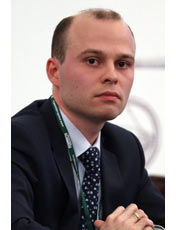 Business Development Director in Russia
Alexey Volostnov is a Business Development Director in Russia within Moscow office of Frost & Sullivan company. He conducts research activities and participates in delivering of consulting projects across various industries with a focus on Russia, CIS and CEE markets. Alexey has delivered projects in healthcare sphere, FMCG and retail markets, IT technologies and application in different industries, etc.
Industry and functional expertise:

Russian healthcare industry assessment within the IPO project,
New market entry strategy development and evaluation for leading Russian companies,
Competitive Intelligence for existent and new markets in Latin America and CIS,
Strategy development for leading Russian market players in retail and automotive industry,
Legislative and political evaluation of market entry opportunities and limitations for Russian companies in Latin America.
Commercial due diligence before the deal.
FMCG and retail market,
Logistics and supply-chain.
Alexey has a Master degree in Scientific-technology International relations by Moscow physics-engineering institute.
Alexey possesses diverse consulting experience, having lived and worked in Russia as well as in Central and Latin America region. He is fluent in Russian, English and Spanish.
Выступления:
Section: "New technology platforms life in cloud"
"Executive Analysis of the Global Connected Car Market"
This research provides a strategic overview of the global passenger vehicles telematics market. The study provides market analysis by region, unit shipment, aftermarket, OEM, and industry. It highlights key trends, legislation, and related roadmaps. It also discusses the penetration of telematics, connectivity and navigation and the market potential across different regions, while highlighting key popular features.