Motorzhin Andrey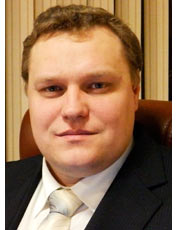 Andrey V. Motorzhin, born 09.01.1980, Saratov, Russia.
In 2002 he graduated from the Saratov State Technical University named after Gagarin with a degree in Software Engineering. From 2002 to 2008 he worked as an engineer in the "ALSiTEK" company, where he developed software for telecommunication systems, digital communication equipment, and billing systems. In 2008 he continued his career in the Saratov office of the Russian-American Company Farheap Solutions / OpenSoft, where he worked his way from a software engineer to Director of Software Development. He developed software and later managed the Russian team of developers of software for the automation of production and product selling for one of the biggest online print shops in the USA overnightprints. com. In June 2012 he decided to try his hand in IT-business and co-founded a company for software development "IronSoft", and in 2013 — the company "Satellite Soft Labs", where he still works now as the CEO. The company develops software in the field of satellite navigation, monitoring and control in the transport sector. He is also a member of the Club of IT-directors of Saratov, where he regularly gives presentations and participates in roundtables.
Выступления:
Section: "New technology platforms life in cloud"
"SmartTrans NaviCore - cross-sectoral platform for transport monitoring. What to choose - SaaS or a turnkey solution?"
The speaker will talk about a cross-sectoral platform for monitoring transport SmartTrans NaviCore with video function, developed for both solving problems of medium-sized businesses in the form of SaaS-service, and for the construction of complex regional and corporate systems. Key platform features, its scope and mechanisms of quick adaption for solving non-standard industrial problems.
Points of the presentation:
1. SmartTrans NaviCore as a continuation of trends in the development of telematic platforms for transport monitoring and control. Introduction of the platform.

Target audience of the platform, its scope and business problems it solves.
What to choose — SAAS or a stationary turnkey solution?
2. Platform as a SaaS-solution for business.

A modern approach to the provision of service to customers and the mechanisms of its implementation in the platform SmartTrans NaviCore.
Overview of the main features of the platform, its key characteristics.
Video function as a useful bonus to monitoring and control.
3. Platform as a basis for the construction of complex regional and corporate systems.

Architecture and principles of the platform construction — a view from the inside.
Mechanisms of quick adaption for solving non-standard industry challenges and platform scalability.
Prospects for further development of the platform and community establishment.