Tkachenko Evgeny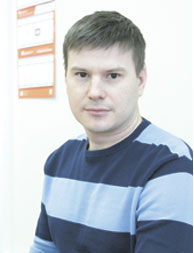 Head of the Department of development and sales support "ST technology" (included in SpaceTeam® holding)
Born October 13 1978, in the Voronezh region.
In 2000 graduated from the Military space Academy. A. F. Mozhaisky (VIKA them. A. F. Mozhayskiy) specializing in "Opto-electronic systems and devices".
In 2000-2004 service in the armed forces.
In 2004-2007 – business analyst CAO VSK (VSK).
In 2007-2013, system analyst group of companies "M2M telematics", then – head of analytical support.
In 2013-2014 – head of information-analytical support to sales "Systemservice" (included in SpaceTeam® holding).
From December 2014, head of the Department of development and sales support "ST technology" (included in SpaceTeam® holding).
Yas Son Ilya and daughter Maria.
Hobbies: sports fan.
Выступления:
Section: "Navigation equipment"
"SpaceTeam® Navigation and Communication Equipment: Simple, Convenient, Reliable"