Puchkov Vladimir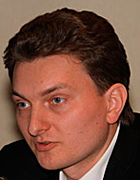 Head of the Commercial Directorate
OJSC "NIIMA "Progress"
In 2007 he start working in the navigation industry after finishing the program "Executive MBA" at University of Oxford (Said Business School, the Great Britain) where specialized in the field of venture entrepreneurship.
Together with forming the brand SHTURMANN in 2008-2010 he supervised over the establishment and development of the company GeoStar navigatsiya Ltd. (the GLONASS/GPS units GeoS). He graduated from Engineering Physical Institute and the MA course of Higher School of Economy.