Vasenin Pavel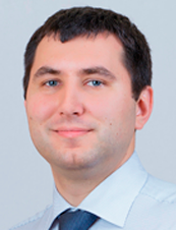 Head of Wireless Teсhnologies Department
In 2005 he graduated from the Tomsk State University of Control Systems andRadio Electronics, specialty industrial electronics.
He began his career in 2005 in the company TomskNefteGazInzhiniring as an engineer. In 2007, he received a degree in economics and finance at the TomskState University of Control Systems and Radio Electronics.
In 2008 he was appointed chief of the Laboratory for SBI, Tomsk
Нe created with colleagues and registered patent.(Russian Federation Patent(№ 2005120898).
In 2009 he graduated from the post graduate school of submission of Ph. D. thesis in the direction of economy and management of the economy.
He is now working for Macro group in the position of Head of Wireless Department. Author of publications in the Journal "Wireless technology". Repeatedly lectured on Glonass forum.
Выступления:
Section: "New technology platforms life in cloud"
"Available inertial navigation for vehicles, perspectives and practical application"
The report examines the current state of the market inertial navigation module shows the efficiency of the use of this technology on a vehicle as an example of foreign experience, reveals the problematic issues hindering mass deployment in vehicles and suggestions for dealing with them,
On the example of the inertial module Skytraq the report shows the practical application of this decision when building a system for collecting and issuing coordinates on the vehicle. The basic elements of the system requires consideration and attention to the development and integration into the vehicle.