Poltoratsky Sergey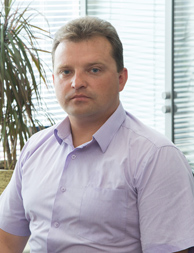 Deputy General Director for Development
Born April 14, 1980 in Primorsky Krai.
In 2002 graduated from the Mozhaisky Military Space Academy, specialty "Radio-electronic systems".
From 2002 to 2007 served in the leading "Research Institute of the Russian Defense Ministry." The field of scientific activity was the development of scientific and technical support for special information and telecommunication systems, protected construction.
In 2008 worked as a senior analyst of regional navigation and information systems in the transport sector in the direction of law enforcement agencies and security-search systems in the group of companies "M2M telematics".
In 2010 the head of department of control systems and special transport of dangerous goods in the service of development of products and services "M2M telematics".
Since 2013 — deputy General Director for Development Research Institute of Applied Telematics (part SpaceTeam® holding).
Author of more than 40 scientific papers.
Two daughters.
Hobbies: sports, fishing.
Выступления:
Section: "Regional and Corporate Navigation Information Systems"
"Experience in Creating Regional Navigation and Information Systems (RNIS) in regions"