Ionin Andrei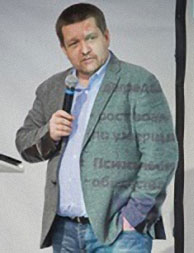 Born on June 2, 1961.
Graduated from A.F. Mozhaisky Military Engineering Red Banner Institute with a degree in ballistics in 1983. Worked in different scientific capacities in the rocket and space industry from 1983 to 2006. Author of over 60 scientific works.
PhD in Technical Sciences, Corresponding Member of the Russian Academy of Cosmonautics by K.E. Tsiolkovsky. Expert of the Skolkovo Foundation Space Cluster.
Has the МВА in strategic management в области. Since 2006 his professional activity has been related to strategic analysis and management.
At the moment he is the Chief Analyst for the Non-Commercial Partnership for Development and Use of Navigation Technologies "GLONASS" (NP GLONASS), the National Navigation Services Provider. From 2009 to 2012 he was the Deputy Director of the Strategic Planning Office of OJSC "Navigation and Information Systems".
Expert in the field of strategic management, space policy, space and hi-tech industry development, space, navigation and hi-tech markets, navigation technology development and introduction. His experience in scientific, research and experimental activities is over 25 years.