Dorjiev Alex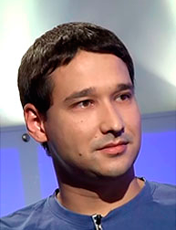 Graduated from the Moscow Institute of Physics and Technology with a bachelor's degree in Systems Analysis/Management and master's degree in Technological Process Modeling in 2005. Obtained 10+ years professional background in IT, including network and system building, software development, and team management. Worked as a technical specialist and then a head of department at Plus.ru, an Internet providing company, and was a co-founder of Paltus, a hosting provider. In 2008, co-founded AlterGeo which in December 2014 launched Local Hero, a hyperlocal ad system.
Выступления:
Round-Table: "Location-Based Advertising in Russia: Status and Prospects"
"Your client is nearby: the hyperlocal ad practice of Local Hero"
The development of geolocation and RTB technologies discovered the opportunity to target the online ads at necessary territories down to small neighbourhoods. While becoming a separate, fast-growing segment, the hyperlocal promotion gradually gains attention of various different companies and organizations being new to the whole online advertising market. Above all, such a tool is what local businesses have always been impatient to obtain: most customers of restaurants, fitness clubs, car-care centres, beauty salons, and other similar companies live, work or just pass close to their points of sale. Banks and even election candidates keep apace with those companies. The current economic crisis boosts the significance of narror geo-targeting. A co-founder of AlterGeo, the leading geolocation technology provider in Russia and the CIS, will narrate the essence and opportunities of the hyperlocal advertising, based on the system of Local Hero launched in December 2014.