Bondarenko Alexandr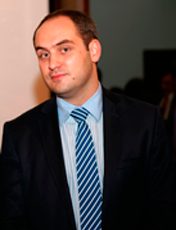 Head of International Projects Department
Born on January 24, 1985 in the Region of Moscow.
Graduated from MGIMO University. Worked at several positions of MFA of Russia.
In November of 2011 headed the Representative Office of JSC "NIS" in New Delhi, India, where he looked after B2G and Large Enterprises cooperation.
Starting from mid-2014 serving as a Head, International Projects Department at "GLONASS Union" where his agenda is to assist the promotion and development of navigation technologies abroad and to implement the International Strategy of "GLONASS Union".