Gurko Alexander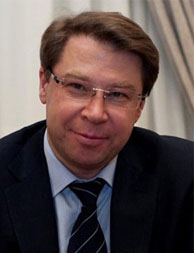 In 1994 — he graduated the Cosmonautics and Flight Vehicles School of Moscow Aviation Institute.
In 1996 — he earned a financial management degree from the Higher School of Economics under the Government of RF, and an MBA with specialization in Strategic Management from the Institute of Business Studies (IBS-Moscow) within the Russian Presidential Academy of National Economy and Public Administration.
From 1994 to 1997 — he held management positions in various commercial entities.
From 1997 to 2000 — he served as the CFO of Regiontrank and Sotsinteh-Komlog companies.
In 2001- he became the CEO of CJSC "Iridium Technologies",
In 2004 — he became the CEO of M2M Telematics.
In 2007 Mr. Gurko acted as the initiator of creation of the Association of designers, manufacturers, and users of equipment and applications based on global navigation satellite systems "GLONASS/GNSS Forum". He was appointed Executive Director of Association, later becoming Deputy Chairman of the Board of the Association.
In 2009 — 2012 — he became the CEO of JSC "Navigation Information Systems" (NIS GLONASS), National Navigation Services Provider (RF Government Resolution No. 549 dated 11 July 2009).
In 2012 he was elected the member of Council on modernization of economy and innovative development of Russia under the President of the Russian Federation.
In 2012 Mr. Gurko became the President of Non-Commercial Partnership for development and use of satellite navigation technologies.
Выступления:
Plenary Session "The Navigation Market — Reload. New Routes"
Topic to be confirmed